HOW CAN WE HELP?
Call us:
1-224-770-2999
or click here to complete the form below.
Experience the Economy of Quality
Our goal is to help you identify opportunities in your operation and deliver equipment that saves time and money. The countless combinations of world-class tooling, workholding and measuring systems ensure a low-risk, high-reward solution to make your operation more productive.
"When our machinist kept requesting additional BIG-PLUS
tool holders… that was the proof for me."
-James O'Toole, Machine Shop Manager, Team Penske
Setting the standard for efficient machining
Increased tool rigidity, reduced runout and added productivity are just a few of the ways premium tool holders can improve a metalworking operation's bottom line. From the everyday to the specialty job, BIG DAISHOWA holders' consistency and performance are unsurpassed.
Team Penske increases tool life by 30%, accelerates setups by 80%
84% of unlicensed 'dual-contact' holders not up to standard
Fewer passes, less scrap, longer tool life—better holes
For roughing or finishing holes large and small, KAISER boring tools combine the modularity that makes adjusting to new and different applications more efficient and the ruggedness to significantly reduce cost, cycle time and scrapped parts—time after time.
10,000 parts without having to change an insert
Digital boring head reduces scrap rate from 4% to less than 0.5%
Replace setup time with production time
The modular UNILOCK zero-point workholding system allows unobstructed access to parts, rapid changeovers or reorientations, and innovative stabilization designs no matter the number of axes or motion. Plus, the simple air clamping concept makes using UNILOCK systems easy for any operator.
Prototype-style setups reduced 70-80% for Andretti Autosport
One workholding solution adds efficiency in 6 different machining applications
Measure and inspect offline. Let spindles spin.
Boost machine utilization and profitability by moving time-consuming setups away from the machine. And rest easy knowing measurements are precise time after time thanks to world-class SPERONI construction and technology.
Texas shop cuts setup times by 60% with Speroni presetter
3 unique customer applications, 3 measurable successes
Micro drills and cutters, macro savings
There may be no other application where the right tooling demonstrates its value more clearly. Today's work often places an emphasis on shrinking geometries, extreme precision and exotic materials. Solid carbide, high-speed steel, carefully coated and reinforced-shank tools have proven to make for a productive environment where tool life is maximized and test cutting is minimized.
40 consecutive perfect holes at 9xD in 316 stainless steel
C-Cutter's 4-sided indexable design delivers dramatically faster speeds and feeds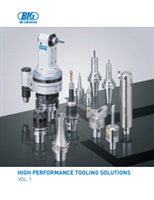 BIG DAISHOWA offers a complete line of tooling systems compatible with virtually any interface for almost any application.
Test our Products for Free.
Let us prove the performance of any of our tooling systems.